Success Stories
---
Making a Difference Daily

"The reason I volunteer is because it continuously teaches me something and I enjoy working with other people.  Also, volunteering allows me to support more experienced people and work towards my goals."
– Mark Anthony, Central Campus Foundational Skills Learning Resource Center Volunteer
"I love making a difference. Going to Goodwill has been so exciting for me. I love working with the Deaf, Hard of Hearing, and Sight Impaired. Their excitement when they accomplish something is very rewarding.  I love volunteering at Goodwill and helping ABLE."
- Roslyn Meyers, Volunteer at Goodwill Industries
"I am fascinated intellectually by language and literacy acquisition. I enjoy working with people, kids and adults, who are learning to speak, read and write. Beyond intellectual curiosity,  like many others I am convinced that we can strengthen and enrich our community by assuring that all can speak, read, and write English. I want to help out with this. And beyond this, I know from experience that public institutions such as CPCC need public support to succeed. That support includes committees that help organize things."
- Betsy Anderson, Communications and Events Volunteer Committee Member

"Once you stop learning, you stop living!"
- Renee Macon, Communications and Events Volunteer Committee Member

"The tutors have really helped the students and attendance in my class is up because they are able to get one-on-one help when I am not able to help them. I have also seen an increase in math scores when they retake there math test after working with the tutors."
-Cynthia Ham, ABE/GED Instructor, North Campus
"It's so humbling to know that you can step back and touch another human being through something as simple as reading and writing"
- Joey Popp, Volunteer, Harris Campus Foundational Skills Learning Resource Center
"I do it because I know that they (the students) need help."
- Alan Levin, Volunteer, Central and Harper Campus Foundational Skills Learning Resource Center
"I'm so thankful for the people who are here to help us get our education, because education is so important."
– Nellie Barbour, Student, Central Foundational Skills Learning Resource Center
Visit our
Success Stories
to learn more about people involved in CPCC's College and Career Readiness programs!
---
A native English speaker, Violet Karneh, moved to California from Liberia in 1972.  Violet attended the University of San Francisco for her undergraduate degree and Golden Gate University for her masters degree.  She raised her two sons in the Bay Area While working for Bank of America.  In October 2006 both of her sons were out of the house and Violet was ready to be closer to her siblings.  She transferred her job to the Charlotte location and moved here. 

After 31 years with Bank of America, Violet retired.  At first she thought she would enjoy having an abundance of free time to travel.  After a few months of traveling and staying home she needed something more fulfilling to do with her time.  Violet began working with the Retired Senior Volunteer Program (RSVP).  "They had a long list of different places I could volunteer at but my sister works at Central Piedmont Community College and always spoke very highly of the Refugee classes offered.  I knew this was an opportunity that I could help people" Violet explained.  Violet began volunteering twice a week in March 2011, at St. Andrews Episcopal Church for three to four hours per day helping adult Refugee students learn English.

Violet says, "This experience has been very rewarding for me and the students are so appreciative ofmy help."  Although Violet's first language is English, she is able to relate to the transition these students are going through as they become familiar with American culture.  "I have become more aware of what other people might be going through and I see how difficult it can be" she continues.  Violet knows that having someone who is dedicated to helping can make a world of difference for students. 

Thank you Violet for your time and dedication.  You have truly made a difference in students lives!
---
In 2006 Jocelyn Sikora moved to Charlotte from Pittsburg, PA to begin her career at Bank of America. Jocelyn was raised in Chicago, IL. Her mother, a math teacher, instilled a love of math in her from a young age. While studying statistics at Carnegie Melon, she began tutoring math and truly enjoyed the experience. Before she found CPCC's literacy programs she had a strong urge to help people and even considered setting up a table at the library to offer free literacy tutoring. In January 2010 she jumped on the opportunity to continue her tutoring work at the Central Campus GED Lab.

Jocelyn volunteers because she really enjoys working one on one with people and is always looking for an opportunity to give back to the community. Once a week she comes to the GED lab after a long and sometimes stressful day at work. This gives her an opportunity to help someone learn math and enjoy the subject she has grown up loving.

"Doing this gives me a good perspective of the diversity in Charlotte. I tend to go about my daily life and I know the people in the banking world, and as an avid runner, I know the people in the running community, but I don't really get a chance to appreciate the diversity of the area. This gives me that opportunity" Jocelyn explains.

A natural teacher, Jocelyn has always loved watching how people learn. She explains, "It's so rewarding to have a student tell me I explained something to them in a way they have never thought of, and it makes sense!" She enjoys working with the same person as well as new students. "When you work with the same student you can really learn their strengths and weaknesses, therefore you get to learn a little more about them. But, when you work with new student's you get to touch more people".
---
As of October 2009, you can find David McKinster and Jenica Williams working hard together at the Harper Campus ABLE lab. Although they may seem like an unlikely pair, the bond that has developed between David and Jenica is truly something to be desired.
Jenica, who moved from Romania to the United States nine years ago, learned the English language with the help of her husband, television, and reading. She could only understand about 70% of what she was reading she was determined to improve her comprehension. In August 2009, as her son was entering third grade, Jenica realized she could no longer help him with his homework. She knew it was time to make a change and ask for help. Although she felt ashamed that was an adult and she needed this help she put her fears aside, and walked into the Harper ABLE lab. A few short months later she began working with David. "Working with David has changed the entire learning experience for me" Jenica says. She continues, "I have better reading comprehension and my math skills have really improved".
David has been an active community volunteer for over thirty years, although he has not assisted GED students since the 1980s. "Giving back has always been something I have enjoyed doing. It gives you that warm feeling inside," David explains. Prior to volunteering with CPCC David tutored children through CMS. Although he enjoyed the experience working with kids, he continued to catch a cold every few weeks. He knew it would be difficult to leave the children, but he also knew he had to take care of himself. David found the CPCC Literacy Program online and shortly after he began his volunteer work here.

According to David, "what distinguishes Jenica from others is that she is all business. She is very serious about her learning, and extremely determined to succeed, and she does all this without loosing a sense of humor. I feel if you compare her work ethic to what the norm is, she is almost in a class by herself in terms of determination and willingness to learn. She could be a role model for other students because her dedication is in a class of its own." This dedication has made this whole experience extremely rewarding for both David and Jenica. "I know my math and my reading comprehension has significantly improved since I began working with David," Jenica replies.

The relationship that David and Jenica have developed has moved beyond the classroom. One day Jenica was unable to make it into the lab because her son was home from school. David did not see why this should hinder her studying so he went to her house to tutor her. This was the spark that ignited a true friendship. "Jenica has been kind enough to invite me over for dinner about six times" David says. "We are friends" Jenica adds. Now they often go out to support one another and their families in their different personal endeavors.

"It seems like today you can't get any career job without your GED and I'm determined to make my career happen" Jenica says. Jenica plans to achieve her GED within the next year and then begin beautician school. Within the next five to ten years she plans on opening her own business. "Getting this GED will put me one step closer to making my dreams a reality!"

Jenica continues, "Without your GED you can't start any other school and I refuse to let this hold me back from the rest of my life. I will get my GED and one day I will own my own business!" With her drive to succeed and determination to learn we are all excited to watch as David assists Jenica achieve her dream!

Thank you to Jenica and David for your time and dedication! We look forward to watching you grow and learn together!
---
From the entire Community Development Department, we say "thank you" to all of the dedicated volunteers who help increase literacy levels throughout Charlotte on a daily basis.
In 2010 volunteers donated a total of 5,766.50 hours. That's 240.71 days, or 34.32 weeks or 8.58 months!
We would like to give a very special "thank you" to the following volunteers. These volunteers all donated more than 120 hours of service in 2010.
Volunteer

Location

Hours

David McKinster

Harper ABLE

394!!

Jim Hansen

Cato ABLE

248.25

Jason Birchfield

Harper ABLE – 129.75 hours

Central ABE – 44.25 hours

174

Kathy Rutledge

Central ABE – 121

Harris ABLE – 13

134
---
Jenna Leah Smith was born in Vietnam during the chaos of the Vietnam War. Although she was a healthy child, her mother abandoned her without a legal name at the hospital. Jenna, then known as "Baby Hoi," was placed in foster care until her foster mother heard about the airlifts that were transporting people to the United States from Saigon. Her foster mother managed to safely get "Baby Hoi" on the first plane, making her the first airlift baby. An American family named her Jenna Leah Smith after her adoption. At 25, Jenna attended a reunion for the "airlift" babies in Washington, D.C. where she met the flight attendant from Pan Am who cared for her on her flight to the United States. As the first "airlift" baby, the media has followed Jenna her whole life while she has continued to work for her success and help those around her.

In August 2009, Jenna was attending school at the University of the Incarnate Word. She was required to complete 45 hours of community service to graduate. Jenna attended a required literacy volunteer orientation and quickly realized that the required service work would have a much larger impact on her life. "I was shocked to hear about our local illiteracy rates and suddenly I was more aware of the people around me. I would observe strangers and wonder about their background. And then, I really wanted to help the community."

As a corporate trainer in the banking industry she felt comfortable stepping into the classroom as a tutor. Although she has no formal teaching or tutoring experience she explains, "the instructors in the lab were so welcoming and helpful. I knew they were always there to answer questions and provide a comfortable environment."

By the end of 2009 Jenna had volunteered 107.25 hours. "When I worked with a student and they were willing to try, I knew they needed encouragement from me. Knowing how much the students depended on me is why I became a regular tutor," Jenna explains.

In 2010 Jenna came on staff as an instructor at the Cato ABLE lab, the very lab she had been volunteering in for so long. "I always knew I enjoyed teaching, and I kind of fell into banking, so when the opportunity presented itself I knew I had to apply. Now I feel so much more fulfilled" Jenna states.
"As a little girl I would play school with my dolls," Jenna remembers. "Teaching has always been where I should be, up until now, life just kind of happened."

Thank you Jenna for all the hard work you put in as a volunteer and continues to put in as an instructor. Jenna also said "yes" to her fiance's marriage proposal over the 2010 winter break. Congratulations on your engagement!
---
Finding Your Purpose
Craig Gaffney, a native Charlottean, has been a nuclear medical field service engineer for 35 years, but has always known his passion was teaching. In December 2009, Craig was a victim of the poor economy and was forced out of his job. He took this unexpected life change as an opportunity to begin pursuing his love for teaching and education through his volunteer work. "It's amazing how, when life makes you jump out of the plane, you have to just pull the parachute and take a chance," says Craig.

Craig began volunteering as an English as a Second Language (ESL) tutor at both St. Andrews Episcopal Church with our refugee students, and Newell Elementary School with our family focused adult ESL students. Craig's passion for teaching was hindered by the fact that he did not have his bachelor's degree. This was not going to stop him from following the path he knew he was meant to walk down. Craig enrolled at Grand Canyon University in their online program and he expects to graduate in 2011 with a degree in secondary education with an emphasis on English.

Craig's first experience as a literacy volunteer was more than 10 years ago in Charleston, S.C., with the Trident Literacy Association. When family brought him back to Charlotte, he was determined to continue his volunteer work with ESL students. In his search for these opportunities, he came across RSVP, a nonprofit dedicated to helping retired seniors and veterans find volunteer opportunities. RSVP referred Craig to CPCC and the rest is history!

"Volunteering is one of the best things I have ever done. I love every minute of it and I truly believe that my students are learning," Craig explains. "The most rewarding part of this experience is the relationships that I am able to develop with the students. We all grow together, which creates a win/win situation. I get to help them learn the language and the culture and it provides me with a sense of purpose that I am not able to find anywhere else."

Even though he has lived in Charlotte and the surrounding areas for his whole life, Craig was still shocked to see the diversity in the Charlotte area. "Forty-five years ago it wasn't this way. It was a 'southern city' with little to no Hispanic/Latino Americans or refugees," Craig explains. "What this experience has taught me is how to connect with human beings in a way I didn't even know was possible. Doing this work transcends what you think you already know, because you have to go to another level to help these students, since you do not speak the same language. It all comes from thoughts, feelings and ideas, making this a touching human experience," he says. He realizes it does not matter where you are from. And although he finds it interesting to learn about the cultural differences, he realizes that some things are universal. "It is just so exciting to see students working hard to learn English so they can be better acclimated to their new country!"

Thank you for all the work you do Craig and we all wish you all the best with your educational goals and professional future!
---
Helping Each Other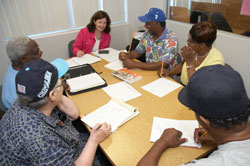 Every Monday and Wednesday at 9 a.m., you will find Kathy Rutledge and a group of 5-10 literacy level students studying hard at the Central Campus ABE lab. Kathy, who has been working with this growing group for roughly four years, began her volunteer work as a literacy tutor in Richmond, Va. After moving to Charlotte in 1998, she wanted to continue her volunteer work. She began tutoring students at the Harris Campus ABLE lab and at the Johnson YMCA ABLE program when she called the now Central ABE lab to see if anyone there needed some tutoring. She was asked if she was interested in leading a class of literacy level learners. Even though Kathy had never taught a class before, she jumped at the opportunity to help. Kathy approached the class with the idea that if she could provide a fun, safe and stable place for these students to come and learn, she was halfway there. She was right!

Not all of the students are on the same level and although this can be a challenge, both Kathy and the students find this beneficial, because they get an opportunity to help and support each other. Being able to help someone else is a wonderful feeling for these students. Not only does it help show them how far they have come, it also gives them a chance to give back!

"These students are just so dedicated and patient that it makes it fun," says Kathy. The group has fun every day; each afternoon laughter, can be heard echoing in the halls. When Kathy was approached to take part in this newsletter, she said "Sure, but the students are the real story." She continues, "Getting to know these students has been the most rewarding part of the whole experience. Everyone is here for a different reason, has a great sense of humor and is dedicated to being a life learner." One student interjects, "We love you."

Although each student has a different story - one is a recovering alcoholic, one is an abused child and many of them are high school graduates - they all know that their successes would not be possible without the help others have offered.

"Other people throughout my life have gone out of their way to help me and I hope I can do the same for someone else," said John, one of the original group members. Each student's personal motivation may be different but they are all determined to learn as much as they can so that they can continue to grow into the person they know they can be!

"I will keep coming until they close the doors and when we are closed for break, I will miss coming to class," says one student. The dedication demonstrated by each student and Kathy is a true inspiration. Kathy, please continue doing great work. We look forward to watching you learn and grow along this journey!
---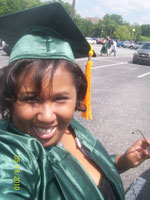 Completing the GED!
When Yolanda Martin found out she was pregnant as a sophomore in high school, she knew she had to do whatever it took to take care of her child. At the time, that meant dropping out of high school. Ten years and three children later, she attended a meeting at the Grier Park Apartments to learn about taking classes to help her get her GED. When she found out this class would be offered at the complex and at no cost, she knew it was time to take a chance.

Yolanda previously had made excuses as to why she could not go back to school. "I had no excuse not to go to class when it was right across the street. They held class during convenient hours, three times a week and it made childcare easier." She says having the class in her apartment complex was instrumental in her success. Many people who live in Yolanda's apartment complex have not graduated from high school, so to have people who really care come in to help, made a world of difference to her.

"I knew that until I got my education, I could not provide a better life for my children. I don't need to be rich but I want to be able to give them a more comfortable, safe life than I had. My children are my motivation," explains Yolanda. Yolanda was labeled a "gifted" child and therefore everyone just assumed she was smart and so they didn't need to push her in her education. "But I was still just a child and children can make stupid decisions," explains Yolanda. "I refuse to let my children make the same mistakes I did, so I need to lead by example."

Yolanda's dedication to her future was demonstrated in May 2010 when she walked across the stage at graduation. "Completing my GED just made me feel so proud. I finally got to give my mother the moment I robbed her of years ago. That felt great," said Yolanda. She knew people would be proud of her but she did not realize how many people would be there to show their support for her. "It just feels like so much more is possible now that I have my GED," says Yolanda.

"Before, people would meet me and just assume I had graduated. When I told them that I hadn't, I could see their faces drop. It made me feel so bad, as if I had let them down. I don't feel like that anymore," she says. Yolanda had to stop comparing herself to people her age and just work on herself. Once she was able to do that, doors seemed to open up right and left.

So, what's next for Yolanda? On August 30, she will begin a 10-month program at King's College in Medical Assisting. She then plans to attend CPCC to obtain her degree in Cardiovascular Technology. "I feel like I can picture it now that I have the GED. It makes everything more obtainable," she says.

Congratulations, Yolanda! You did it and your future is waiting for you!
---
Ready to Make a Difference

Cynthia Patrick moved to Charlotte in August 2007 from New York City. After years of working as a lawyer, Cynthia realized that although she enjoyed her job, she was ready to make a difference in other peoples' lives. This motivated her to seek out literacy volunteer opportunities.
Cynthia has been helping students with refugee status learn English as a second language for about six months and has enjoyed every moment. "This experience is something which starts every week off on a positive note. I look forward to coming to help students and to engage my own mind," Cynthia states. She engages her mind by helping students with worksheets, reading with them, having a conversation and much more.

"This experience has really shown me how diverse this community is," says Cynthia. Cynthia is currently helping students who speak five different languages in class. Cynthia speaks a little Spanish but until a few weeks ago there was not a single Spanish-speaking student in the class. She believes it is often difficult to know when students truly understand the topic, but when she works with them one-on-one it becomes much easier for the students to express their understanding or lack of understanding.

Although Cynthia has always had a passion for literacy and books, she pursued a career in law. She often pondered the idea of working in a literacy program, but was not sure if it would be the right fit for her. Since beginning her volunteer endeavors, Cynthia has been accepted to UNC - Charlotte where she plans to get her master's degree in library science. "This experience deepened my understanding of how important literacy is," she says. Cynthia believes she can make a difference by helping others welcome literacy into their lives.

Thank you Cynthia for everything you do each week. We wish you the best of luck in your academic endeavors as you continue to help others achieve theirs!
---
Volunteers Make a Difference!
"The tutors have really helped the students and attendance in my class is up because they are able to get one-on-one help when I am not able to help them. I have also seen an increase in math scores when they retake there math test after working with the tutors."
-Cynthia Ham, ABE/GED Instructor, North Campus
---
Help from Ireland
Ann Crowley spent her summer assisting students at the Dowd ABLE Lab. Ann spent a total of 130.75 hours helping students learn basic skills necessary to achieve their GED throughout June and July 2009. We wish you a safe trip back to Ireland and thank you for your time and dedication!
---
An Eye-Opening Experience

Mary Lou Gator moved to Charlotte, N.C., from Pittsburgh with the desire to help those around her. In the past, she had participated in a variety of volunteer initiatives with her church and was therefore eager to continue engaging in community service projects. When Mary Lou discovered the College and Career Readiness programs at CPCC, she knew she had found a new "home." She could not imagine not being able to read and was determined to help those in need learn this invaluable skill.

At first Mary Lou was skeptical about working in an English as a Second Language (ESL) classroom. However, after her first visit, all of her skepticism was gone and she was truly impacted by the experience. Mary Lou describes working in a ESL classroom as an "eye opening experience." She continued volunteering through the fall 2008 semester, making a difference in students' lives.

This semester, Mary Lou decided to try her hand at tutoring students preparing for their GED at the Harper Campus. Mary Lou was confident working with students in reading but was nervous about working with them on math. However she stepped up to the challenge and has been successful at overcoming her nerves about teaching math, gaining more confidence in the process.

Mary Lou has met every challenge she has faced with grace and respect and she always puts a smile on the faces of staff and students when she walks through the door.
---
A Smile is International

When Nadya Ponomarenko and her mother moved to the United States from Ukraine, they enrolled in English as a second language classes. Nadya's mother was a neurologist in Ukraine however, when she moved to the US, her accreditation's were not recognized. When her mother took her first accreditation test she failed it due to the language barriers she was still facing. After months of English classes, and studying independently, she retook the test and scored in the 99th percentile, outranking many native English speakers! This proved to Nadya that the American dream is possible; you just have to be willing to work hard to achieve those dreams.

Nadya recognizes the impact her teachers had on her and her mother, and was eager to make that same impact on others. Her "anything is possible" attitude shines through when she is volunteering to help refugee students learn English as a second language. Although Nadya does not speak the same language as the students, she has no problem communicating with them. "A smile is international" she believes. Through body language, she is able to communicate with all people, regardless of their native language. Through this experience Nadya feels she has learned just as much about herself and other cultures, as the students she works with every week.
---
Thank You
An extra special thank you to Alan Levine who donated a total of 80 hours at the Dowd YMCA ABLE Lab in the Spring 2009 semester. The dedication you show is an inspiration to everyone around!
---
Meeting the Challenge

Three years ago, Helen Hull was quite busy with her doctoral classes, work and church projects when she found an interest in helping struggling students. She offered to help in the area of her expertise, writing.

The Harris lab did not have a student with a writing skills need at that time but there were students in need of help with reading. Helen accepted the challenge to teach in an unfamiliar area. She started with one student and gradually added two others to her busy schedule. Helen graciously has changed schedules many times to continue tutoring.

Working at UNCC and Queens University along with dissertation writing, Helen has set aside precious spare time for her students. She is described by her students as the very best and nicest of tutors.

Staff and students alike look forward to her cheerful appearance each Tuesday.
---
Change In Attitude and Future

Moving to foster home at the age of sixteen was the start of a new life for Patrick Ford. He has been rebellious and had lost focus of what he wanted to do with his life.

Life in the foster home was very structured and he had to adjust work hard. Expectations for him were high and he vowed to improve.

In an effort to place Patrick with in alternative educational setting, he was enrolled in the Bridge program where he studied hard every day and excelled.

With completion of the Bridge program Patrick needed further help to complete his GED. Enrolling at Dowd Patrick focused on his goals. Working several hours each day and often with tutors, his efforts are paying off. He has currently passed four official GED tests.

Congratulations!
---